This blog highlights success stories from across the project, from our cutting-edge scientific discoveries to our collaboration and co-design with stakeholders. New blogs are released monthly.
If you're interested in knowing more news about the project, please sign up to our newsletter.
---
Climate Services for the Chief Snowmaker: New Collaborative Blog!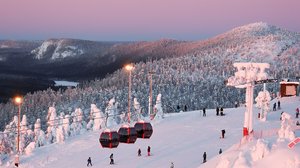 Blue-Action have worked with Year of Polar Prediction and our colleagues at PROSNOW to put together a longer blog post on winter tourism climate services.
In this blog post, Carlo Carmagnola (PROSNOW) and Martin Coath (Blue-Action) discuss the differences and shared challenges between two projects looking at climate services for winter tourism.
Read the full blog here.
---
From cold air to Arctic hurricanes: how we can use climate services to improve safety for Arctic shipping
The news is currently inundated with stories of extreme weather, from deep freezes across Northern Europe down to snow in Texas. There is a great deal of speculation about the links to climate change, particularly how changes in the Arctic might be influencing weather and climate in the lower latitudes. But less attention is paid to extreme events happening in the Arctic itself, and how those living and working in the far north are adapting to these often dangerous and intense occurrences.
Throughout history, seafarers of the North have told tales of unexpected encounters with fierce storms that appeared out of nowhere. These storms were well known to the coastal community and early tradesmen. The storms were generally recognized by abrupt changes in weather, heavy snowfall, gale force winds and rough seas. Records of impact witness substantial damage to infrastructure, havoc on the seas, disrupted fisheries and closed shipping routes.
Now, we recognise these accounts as polar lows, a special weather phenomenon occurring in Polar Regions also known as Arctic hurricanes or cold depressions. They are short-lived atmospheric low pressure systems much like tropical hurricanes, only they appear where cold winds draw across relatively warm ocean waters. They typically only exist for a few days, but can be dangerous for ships and infrastructure in the areas they form, and due to the size and duration are very difficult to predict. With a melting ice cap, and a more unstable and volatile atmosphere, such severe and extreme weather formations are expected to become increasingly common.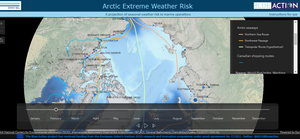 One of Blue-Action's flagship case studies has been working to show how prediction of these events is possible, and creating a climate service to provide this information directly to the shipping industry that needs it most. Through linking the appearance of polar lows to the environmental precursor, known as Marine Cold Air Outbreaks (MCAOs), the aim is to improve the safety and resilience of polar shipping.
The case study has analysed 40 years of climate data to produce a MCAO index, and study the links between these outbreaks and polar low formation. A recent study suggested that two-thirds of MCAOs in the North Atlantic are accompanied by the potential formation of polar lows. However, formation is affected by a range of interconnected drivers of ocean storminess, and more research is needed to explore these interactions. The data also show that despite increasing temperatures in the Arctic, there has been an increase in MCAO frequency and intensity.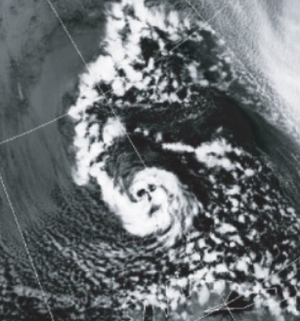 Øivin Aarnes from DNV-GL has been working closely with scientists and industry stakeholders to develop a demo version of a web app that can communicate risks of these severe and extreme weather conditions. The service specifically addresses sea-ice, marine icing, water temperature, precipitation, and winds. Search and rescue operations, passenger transport and goods movement all depend on a suitable window of opportunity of environmental conditions, and reliable weather information is critical to ensuring these journeys can be made safely.
Øivin explains…"Shipowners, charterers, insurers, authorities, and financiers seek robust frameworks to future-proof decisions on economic activity. Clear, transparent, and material information on the risks and opportunities presented by climate change is an integral part of this. The prospect of climate services, and eventually the uptake by business, will rest on how well climate and weather information translates to decision making. In this study, we've taken one step towards enhancing use of weather predictions to support decisions, mitigate risk and improve resilience in Arctic ventures."
The app assists decision-making by providing an interactive web map that identifies regions susceptible to polar lows, based on a statistical model that incorporates past events and seasonal variability. It is freely available as a on a trial basis to gather feedback- you can access it here: https://maps.dnvgl.com/labs/blueaction/. Please note this is a prototype climate service, and should not be used for navigation in its current form. For more information, please contact Øivin Aarnes at oivin.aarnes@we dont want spamdnvgl.com.
---
North Atlantic climate predictions are possible, breakthrough study shows
Can we predict the climate years in advance? A central question within the Blue-Action project that we are a step closer to answering, with a scientific breakthrough published in Nature last week.
A team including Blue-Action scientists and led by the Met Office Hadley Centre, UK, demonstrated that the North Atlantic Oscillation is predictable, leading to a much greater understanding of winter weather conditions across European and North America. By analysing six decades of climate model data, the team showed that the predictable signal could be extracted from the climate models by having much higher ensemble size and balancing the effects of greenhouse gases.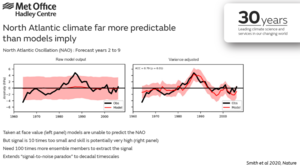 However, another message from the study was that the predictable signal was much smaller than it should be. The team explained that this could be due to problems with how climate models simulate regional changes, and more research is needed to improve these aspects.
These improved predictions will have a significant impact on businesses, governments and communities across Europe, who will be able to have advanced warning of whether winters years ahead will be stormy and wet, or calm and dry, enabling greater planning and adaptation to the changing climate.
Full paper: Smith, D. M., Scaife, A. A., Eade, R., Athanasiadis, P., Bellucci, A., Bethke, I., ... & Danabasoglu, G. (2020). North Atlantic climate far more predictable than models imply. Nature, 583(7818), 796-800.
---
Arctic melt water leads to enhanced storms
Freshwater in the ocean leads to extreme cold patches in the North Atlantic, which has major implications for weather over the surrounding land-masses.
This is according to National Oceanography Centre (NOC) led research published in the Journal of Geophysical Research Letters this week.
Lead author, Marilena Oltmanns, from the NOC, said "Traditionally, it was thought that freshwater leads to a decline in the large-scale ocean overturning circulation, which then results in a cooling of the North Atlantic. Our new study shows that freshwater achieves this cooling much more rapidly and efficiently by triggering atmospheric feedbacks."
Freshwater creates shallower surface layers that adjust faster to the lower air temperature in autumn and winter. This increases the north-south temperature gradient, promoting the occurrence of storms. The storms in turn reinforce the cooling by triggering increased ocean heat losses and redirecting the regional ocean circulation. Accordingly, past freshwater events have been followed by an extremely cold ocean surface in the subpolar North Atlantic in winter and major changes in large-scale weather patterns.

"The winter 2015/2016, following the largest freshwater event over 40 years, demonstrates the potential that can be expected the initiated storms. This winter featured a strong cyclone over the subpolar North Atlantic, triggering cold air outbreaks along the west coast of the North Atlantic (over Canada and the US) and severe flooding events along the eastern side, including over the UK:"
The research is a collaboration between NOC, GEOMAR in Germany and the University of Toronto in Canada and forms part of the EU Projects Blue-Action and AtlantOS and the UK NERC projects CLASS and ACSIS.
Full paper: Oltmanns, M., Karstensen, J., Moore, G. W. K., & Josey, S. A. (2020). Rapid cooling and increased storminess triggered by freshwater in the North Atlantic. Geophysical Research Letters, 47, e2020GL087207. https://doi.org/10.1029/2020GL087207
This blog was written by Holly Peacock at the National Oceanography Centre, Southampton.
---
Meet the Team: Mark R. Payne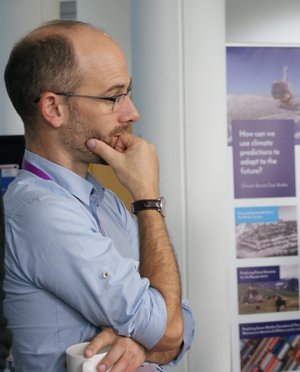 This time we are introducing Mark Payne, who leads the climate service case studies for Blue-Action, and has had an interesting journey to the role!
What is your role, and where do you work?
I am a senior researcher at the Technical University of Denmark in Copenhagen, Denmark, where I am responsible for coordinating our climate activities.
What did you do before your current role?
Many things! I am originally trained as a chemical engineer, and my first job was a "Cheese Technical Officer" in a factory making 100 tonnes a day of Parmesan and Gouda cheese in New Zealand. I've also worked on fuel cells and protein biochemistry along the way as well!
What is your current research about?
I am aiming to be the world's first fish-forecaster! Just like we have weather forecasts on the news every night, I am aiming to make regular forecasts of where and when fish can be caught. This has an important role to play in helping our ocean-dependent businesses and communities to adapt to the looming challenges of the climate emergency.
How did you become interested in climate science?
I was always interested in the environment and humanity's impact on our planet as a child, but never really figured out quite how I could contribute. I was 26, and nearly finished with my PhD in chemical engineering, when I literally woke up one morning with the solution – the link was my interest in mathematics, which is key to both fields. That was the start – it took another 10 years before I was able to fully jump to climate science, but it is very satisfying to be there in the end.
What do you think are the big questions in climate research at the moment?
There is really only one big question about climate science left - what do we do about it? All of the questions about whether it is happening, and whether humans were responsible for it were settled more than 20 years ago – we are just fleshing out the details now. But the big question now is how we respond. The coronavirus pandemic shows that wholesale societal change is possible if there is enough willpower and leadership from government and society. Can we do the same for the climate crisis?
Is there anything you find frustrating about the way climate science is communicated or discussed?
The lag between the scientific consensus and the public debate is deeply worrying. It seems like it is taking 10-15 years before the scientific consensus permeates into the public psyche. At the same time, the public response is moving very very slowly. Addressing the climate emergency requires that we act as soon and as fast as possible. We have already made the challenge of responding much greater than it needed to be by responding so slowly. And at the same time, the longer we wait, the harder it gets to respond, and the more irrecoverable the situation becomes.
---
New study shows that heat is now more lethal than cold for some people in Spain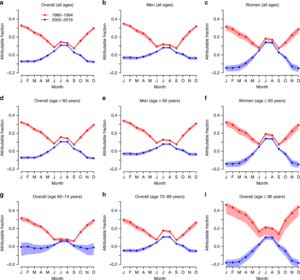 People with respiratory diseases in Spain are now more vulnerable to high temperatures than cold ones, a new study by Joan Ballester from Blue-Action and colleagues at the Barcelona Institute for Global Health has shown. This complete reversal of the seasonality of temperature-related mortality has implications for climate change health policy-making.
The study, published in Nature Communications, analysed data from over 1.3 million deaths linked to respiratory disease in Spain between 1980-2016. The data show that mortality over the period in the warmer months were relatively stable, but there was a decline in deaths during the colder months of 16.5% per decade. The authors suggest that this could be due to adaptation of the population to lower temperatures, through measures such as more widespread heating of homes and effective treatment.
Joan Ballester explained, "These observations reflect a remarkable process of adaptation to cold, but not to heat." The predicted increase in extreme temperatures under climate change are correlated with increases in cardiovascular and respiratory diseases. "Deaths attributable to hot or cold temperatures are caused by a combination of exposure to extreme temperatures and the vulnerability of the population," explained Ballester. "Reducing this vulnerability may require policies associated with socioeconomic development, such as those aimed at improving health services."
Read the paper here: https://doi.org/10.1038/s41467-020-16273-x
Full details: Achebak, H., Devolder, D., Ingole, V. et al. Reversal of the seasonality of temperature-attributable mortality from respiratory diseases in Spain. Nat Commun 11, 2457 (2020).
---
Meet the team: Yulia Polkova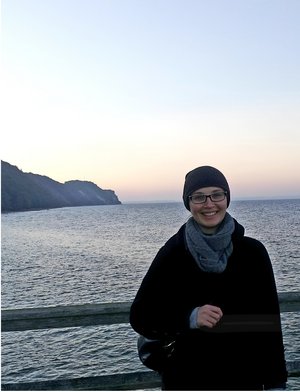 The first of our Meet the Blue-Action team series, we introduce Yulia Polkova who contributes to WP1, Improving seasonal long-range forecast skill of risks for hazardous weather and climate events.
What is your role, and where do you work?
I am a Postdoc at the Institute of Oceanography, Universität Hamburg, Hamburg, Germany.

What did you do before your current role?
Previously, I worked as a scientist and project manager in the German national project MiKlip on the development of operational decadal climate prediction systems for the German Meteorological Service.

What is your current research about?
In my current research, I investigate predictability and drivers of marine cold air outbreaks in the Nordic Seas.

Why are you interested in climate science?
When I obtained my Master's degree I wanted, as many young people often feel, to save the world :-). At that time, long-term climate prediction was a new and exciting topic and I felt tempted to contribute. I have been working for about ten years in the field of climate predictions. The topic does not exhaust one's curiosity, it is so diverse and exciting, and there are still so many questions to be answered.

What do you think are the big questions in climate research at the moment?
It is obvious that the climate is changing and one of the big questions is how large the change will be and what impact it will have on natural variability of the climate system, including the impact on living beings.

Is there anything you find frustrating/positive about the way climate science is communicated or discussed?
Climate topics receive a lot of attention, especially in recent years. It seems to contribute to climate anxiety, which makes me worry. This is not productive, we cannot think clearly when we are anxious. I find recently it became challenging to choose proper words in order not scare people but also not to undermine the importance of research findings. On the other hand, recent attention triggered a lot of applied and interdisciplinary climate studies and many scientists around the world are working on finding answers to important climate questions.
---
Scientists and ski resort work together for sustainable tourism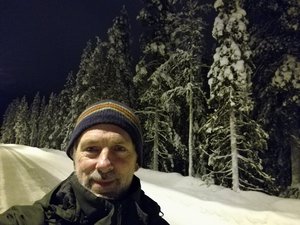 Martin Coath from Blue-Action explains his work with the winter tourism case study team
Writing this while locked down* I am (like many of you) looking forward to a trip further away from my house than the distance I can walk. Go on, admit it, many of you are planning a post-pandemic holiday. Fancy skiing this autumn? The Blue-Action consortium includes a ski resort that opens in the first week in October and aims to be the most snow-secure resort in Europe with more than 200 skiing days in a year.
At this point you might be a little suspicious that this sounds like a press release from the Finnish tourist board, not a blog written by a scientist employed on an EU-funded research project. But tourism is a critical part of the Arctic economy. A case study showing how advances in forecasting might help businesses plan, adapt, and remain sustainable is an exact fit with the aims of the Blue-Action project to "improve the safety and wellbeing of people in the Arctic and ... to reduce the risks associated with Arctic operations and resource exploitation."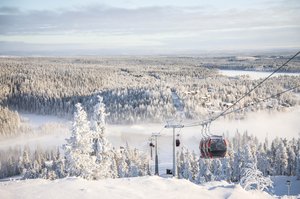 So, a little background. Rukakeskus Corporation is a family business which has managed and run the Ruka ski resort in Northern Finland since 1973. It is one of the leading tourism companies in Finland with nearly a 20% share of national ski-pass sales. The resort initiated an ambitious environmental programme in 2008, and ten years later became carbon neutral in terms of energy consumption. They are committed to being pioneers of sustainable tourism, and as such hold a key role in the development of the region.
Now a personal confession! I have never put on a pair of skis, and I am not a climate scientist†. I am a computer programmer and science communicator working on transdisciplinary projects of all sorts. Our case study team from the Arctic Centre at the University of Lapland and Ruka includes climate scientists, people with an intimate knowledge of how the ski industry works, as well as researchers into the social and political aspects of climate adaptation and sustainable Arctic tourism, and data scientists. But the success of our case study rests on dissolving the apparent boundaries that exist between these disciplines.
To illustrate this I will pick a concrete example; to achieve the aim of 200 skiing days a year Ruka needs to make a lot of snow. (Those of you whose eyebrows are currently raised; welcome to my personal journey. Who would have thought that Arctic ski resorts needed to make snow?)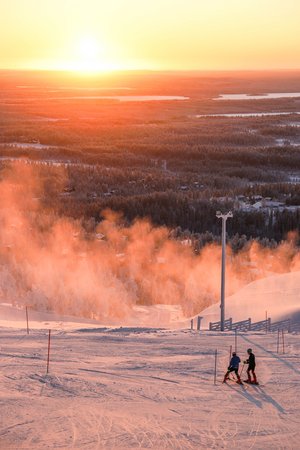 Ruka make their snow using carbon-neutral energy sources and readily available Finnish lake water which is returned, without contamination, to the lakes when the snow melts. But snow-making is weather dependent, snow storage and grooming is labour intensive, and carbon neutral energy is still expensive. It is very hard to juggle the money, the timing, the hiring of labour, the availability of machinery and a dozen other factors. If we could have information about the likely weather conditions weeks or months in advance this would be a key aid to decision making. And any indications of climate trends years, or even decades, ahead could allow the resort to steer its business plan accordingly.
In the last year we have built a tool that encapsulates six months of model prediction data and makes it available to the resort on a single screen. This takes the form of an 'app' that can either be installed on desktop devices or be delivered directly to mobile phones and tablets inside a browser window. The app is simple, but deciding how to distil and present megabytes of prediction data in a way that communicates something meaningful (including the inherent uncertainty) has required engagement and careful design at all levels by every member of the team.
This is the core of our project. The model predictions are critical but, in themselves, are not enough. To characterise the usefulness of the prediction data requires a concerted transdisciplinary effort. And to make practical use of the data requires us to process and present it in ways that are meaningful. This process, building a common frame of reference between researchers and the communities and industries they serve, is a challenge faced by all scientists, but particularly by climate scientists if we are going to foster a common, constructive dialogue.
* Because of the 2020 SARS-CoV-2 pandemic for those reading this in the future
† Although I am from Cornwall, UK, and we know what it is like to have an economy based on tourism
---
New study on energy heat transports to help understand Arctic warming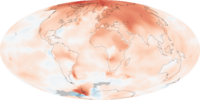 The Arctic demonstrates the impact of climate change more dramatically than anywhere else on earth.
In some areas, the mean temperatures have warmed two or three times faster than the global average since the late 20th century. We can also watch the increasing loss of sea ice, glacial ice and snow cover in all seasons since the satellite era, when we were first able to accurately observe these changes. These are the result of Arctic or polar amplification, a phenomenon where warming at the poles is greater than at the lower latitudes.
A new study by partners in Blue-Action, led by Yang Liu from the Netherlands e-Science centre, have contributed an open-source work package that may help future studies in modelling the causes of Arctic amplification. The package, available in Python, combines ocean and atmosphere reanalysis datasets and analyses the variability between them. The overall aim was to compare differences in the datasets over space and time, and ultimately improve our understanding of Arctic climate processes such as amplification.
Polar amplification was suggested as far back as the 1890s, when it was merely a hypothesis. Now it is a reality, and the implications reach far beyond the highest latitudes. The Arctic is often called the "refrigerator of the world", influencing global climate processes across the Northern hemisphere and beyond. For example, there is evidence that the differing rates of warming between the equator and the poles can influence the frequency and severity of storm formation: leading to the "once in a lifetime storms" of the past few years becoming far more familiar for many people.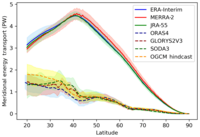 Understanding the impact of Arctic amplification first requires an understanding of the causes. Studies show that warming is influenced by local processes, such as snow cover and sea ice melting. Losing sea ice and snow cover reduces the albedo, the reflection of heat from sunlight back into space. When sunlight reaches the darker oceans instead, the heat is absorbed and retained.
However, the Arctic is not a self-contained system. Remote processes such as moisture transport from lower latitudes by air, or heat transport from lower latitudes by air and ocean, can also be important. This poleward shift of energy is accelerating the warming in the region, but the relative contribution of various remote and local processes are still under debate.
The new study suggests the Arctic climate is sensitive to seasonal variations in atmospheric and ocean energy transport. The datasets analysed generally agree on the average transports and these results are consistent with observational datasets, but that they become less consistent over longer-term analysis. However, the team are now working on refining the role of energy transport, and all the work is available to other researchers looking to improve our understanding of Arctic warming.
Publication details
Liu, Y., Attema, J., Moat, B., and Hazeleger, W. (2020) Synthesis and evaluation of historical meridional heat transport from midlatitudes towards the Arctic. Earth System Dynamics, 11, 77–96, https://doi.org/10.5194/esd-11-77-2020
Work package: https://zenodo.org/record/3609505#.Xow90IhKiM9
---
Who are the authors behind the IPCC? An interview with Blue-Action partner Didier Swingedouw on contributing to a recent Special Report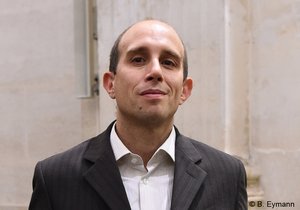 What is your role and where do you work?
I am a CNRS researcher at EPOC laboratory based within the University of Bordeaux.
What are your main areas of research?
I am mainly interested in climate dynamics. My main target is to correctly understand the climate system and anticipate its variations. For this purpose, I use complex numerical climate models that I compare with recent observations as well as paleodata. I am particularly interested in the North Atlantic Ocean dynamics, its interactions with the atmosphere and its predictability and potential impacts.
What does a normal working day look like for you?
As a numerical modeler, I spend quite a lot of time with my best friend, my computer! Nevertheless, there is no "normal" working day, because each day is usually enlivened by meeting in face-to-face or videoconference with other colleagues, conferences, scientific council, or supervision of internships, PhD and postdoctoral fellows. So, I have no time to feel any routine. I also have interactions with wider audiences through conferences or visit in schools, which I really enjoy. Science needs more people involved and this is what I'm searching for, in order to find fresh new ideas concerning the critical issues climate change is bringing towards us.
What is the SROCC?
SROCC means Special Report on the Ocean and the Cryosphere in a changing Climate. This is a Special Report from the IPCC requested by governments after the Paris Agreement in 2015. Its aim is to focus on the ocean and cryosphere (ice or snow-covered region) which are key elements of the climate system, but whose vulnerability is not always well-highlighted in classical IPCC Assessment Report (AR) report released every 7 or 8 years. I had the honor to participate in this report, which was an incredible experience.
Why is important to know about the oceans and cryosphere in relation to climate change?
The ocean covers about 2/3 of the Earth, while the ice-covered area represents about 1/3 of the land surface. Thus, these two realms are huge players in the climate system. Furthermore, people living near the coast or in regions dependent on the cryosphere (e.g. mountains) represents almost 1.5 billion of the population. The resources from the ocean are also fundamental to a huge number of people, so it was absolutely crucial to properly assess the risks of changes in these two realms, which are intimately interconnected.
In which areas did you contribute to the report?
My contribution as a lead author concerns the chapter 6: "Extreme and abrupt changes". In this multi-disciplinary chapter, I have mainly synthesized the knowledge we have concerning the risk of a rapid climatic changes in the North Atlantic and the associated potential impacts. I have also collaborated with colleagues concerning other aspects of climate change in the ocean, like the risk of extreme events in the ocean, or the interactions between the Atlantic and Pacific Ocean in terms of decadal variability. We have made a great effort to incorporate knowledge and approaches from colleagues from the social sciences that contributed to this chapter. In that sense, this chapter provides a very complete assessment of the potential impact of extreme and abrupt changes, including societal and governance aspects.
What are the main findings of the report?
The report covers a wide range of topics, and it goes from the high mountains to the ocean abysses. The main findings that it synthesizes concern the very high vulnerability of coral ecosystems, which might be in great danger under warming larger than 1.5°C globally, with huge implications for the whole marine fauna and associated ocean ecosystem services. A key novelty highlighted in the report also concern the instability of the West Antarctic ice sheet, which might cross a tipping point under global warming larger than about 2°C. This means that if this threshold is crossed, the sea level will rise for millennia, with no possibility of return, committing numerous generations of people. The report also confirms that the risk of abrupt change in the North Atlantic is still relatively low, but given its potential very high impact for socio-ecosystems, this is a scenario for which we need to develop appropriate adaptation measures, which are clearly missing at the moment.
---
Helping local communities to understand what the future might look like: "Information Services" in Russia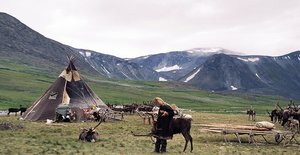 By Vilena Valeeva, IASS Potsdam
.
One of the Blue-Action case studies is focusing in the Yamal region of Russia, characterized by fragile ecosystems, a harsh climate, and extreme weather. Large-scale economic projects must be assessed for their capability to provide local economic benefit without causing harm to local ecosystems, social and cultural livelihoods, and the global climate. Together with stakeholder groups, the team has co-developed a suite of scenarios to describe possible futures for this region in 2040 by incorporating cutting edge climate predictions with environmental, social and cultural concerns, economic opportunities, and political and legal developments.
Yamal is a region with substantial ongoing and planned petroleum and shipping activities. However, its future is highly uncertain due to a number of factors; the impacts of climate change are among the most important of them. The main goal of the project was to help stakeholders, i.e. those whose life and work is dependent on Yamal, to deal these uncertainties and to adapt to possible developments in the future. The scenarios "Yamal 2040" were developed together with stakeholders at a series of workshops and incorporated cutting edge climate predictions with environmental, social and cultural concerns, economic opportunities, and political and legal developments. Representatives of different stakeholder groups were involved in the Yamal scenario project from the very beginning and acted as co-authors of the developed scenarios and the strategic options. Blue-Action climate scientists also participated in the workshops and played an important role providing information about possible impacts of climate change on Yamal.
As a result of this case study, three different scenarios were developed showing how different might be the future of the region. In one of the scenarios, Yamal petroleum business is shrinking by 2040 as a result of global energy transition. In another one, Yamal gas is, by contrast, booming and acknowledged worldwide as a "transition fuel". In two of the total three scenarios, Yamal experiences severe consequences of climate change, such as rain-on-snow events or anthrax outbreaks and mercury releases out of thawing permafrost which create life-threatening challenges for indigenous communities. The third scenario, however, projects cooling instead of warming for Yamal and Europe as a result of interaction of a number of unexpected factors. This unlikely but still possible development creates challenges and opportunities which are totally different from those in other two scenarios.
Participation in the scenario construction helped stakeholders to deepen their knowledge about the impact of climate change and its interaction with other factors influencing the future of Yamal and to reflect on their cognitive biases, accepting the uncertainty of the future. The second part of the project, i.e. development of the strategic options, showed them how they can act in face of such an uncertain future and proactively prepare for different possible developments. Strategic options that might be rather robust against alternative possible developments and could thus be useful under alternative scenario conditions were developed for the three stakeholder groups: local communities including indigenous peoples, oil and gas business, and Russian Federal government.
Overall, this work enabled stakeholders to make unbiased and more information-based decisions about the future of Yamal, to prepare for developments they have not considered so far, and to reduce risks and identify new opportunities in times of climate change.
---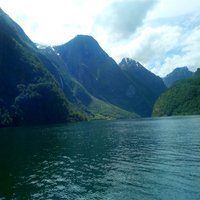 Welcome to the new Blue-Action blog!
Over the following months we will be featuring short pieces introducing our team, discussing climate science and sharing our research to provide a closer look at what is happening within the project.
If you would like to know more details about anything we feature, please look through the many topics on our website, or contact us for more information.