Temperature-Related Human Mortality in Europe
---
We have worked with a wide range of industries, sectors and experts to provide an exhaustive overview about the best way to design and implement a heat health early warning system for Europe.
Based on these inputs, we have developped and implemented a prototype of the heat health early warning system.
In 2020, we took part in targeted dissemination events to reach out for users. An evaluation of the product is also avaialble in the section Deliverables.
---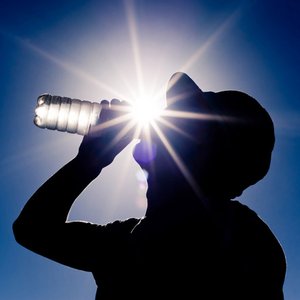 As the number of warm days and nights continues to increase across Europe, so does the intensity, frequency and length of heat waves. Heat waves have caused many more fatalities in Europe in recent decades than any other extreme weather event, according to the European Environment Agency. However, the vulnerability of communities and individuals to heatwaves is localised, and depends on socioeconomic, political, physiological, and behavioural factors. This case study focuses on developing a prototype of heat health early warning system for European regions. Heat early warning systems are designed to reduce the health consequences of heat episodes, by providing sufficient warning to allow authorities to notify affected populations and put mitigation measures in place for the most vulnerable communities.
Blue-Action has developed a climate service to provide more accurate sub-seasonal to seasonal forecasts of heat wave events. Co-designed with the City of Almada, Portugal, and other relevant national and international health agencies and built on the experiences of existing operational schemes, this initiative provides targeted information to help the public health sector improve decision-making, planning and adaptation to climate change.
With improved spatial resolution of climate data, as well as an exhaustive mortality dataset covering a large ensemble of 147 regions in 16 countries, this innovative prototype of heat health early warning system enables health services to predict the impacts of heat on health and therefore activate preventive actions, as well as to understand the spatiotemporal differences among European societies in human vulnerability to ambient temperatures.
Lead: Joan Ballester, ISGlobal, Joan.Ballester@we dont want spamisglobal.org and Marcos Quijal marcos.quijal@we dont want spamisglobal.org
Nuno Cunha Lopes, Environmental Studies and Management Division, Sustainable Environmental Management and Planning Department, City Council of Almada
Sara Dionísio, Sustainable Environmental Management and Planning Department, City Council of Almada
The Temperature-related mortality case study PDF download
Forecast scheme of temperature-related mortality for decision-making in European regions and cities, available in Zenodo
End-user requirements report, available in Zenodo
Product Development report, available in Zenodo
Evaluation of the product, available in Zenodo
Website of the product: https://heathealth.eu/
---
Selected baseline prediction data