Knowledge exchange series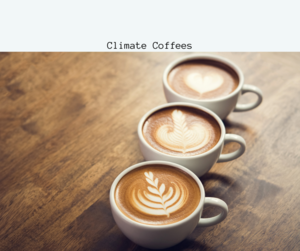 #climatecoffees are short (circa 40 min), relaxed meetings for scientists to share ideas, discuss methods and communicate new results. They are open to speakers of all levels of seniority, we especially encourage early career scientists to become a speaker.
The coffees are an exciting opportunity for scientists to build a network and disseminate recent results, peer-to-peer.
We invite researchers from across the climate science community to join us for this series of regular online knowledge exchange events.
In average, we organise one or two #climatecoffees per month, always on Thursdays. The time is always the same, from 11:00 - 11:40 am.
Call for speakers 2023 is now open!
Are you interested in giving a talk in the next sessions, or hearing more?
Please email Chiara chb@we dont want spamdmi.dk and give us a bit more details: your short bio, a potential title, a teaser for the talk and the preferred date.... It has to be a Thursday!
We will close applications at regular intervals and get back to you within two weeks.
---
Thu 16 February 2023 Climate coffees meet GHRSST Talks
Cristina Gonzalez Haro (GHRSST, ICM, BECS), 5:30 pm-6:15 pm
Evaluation and intercomparison of GHRSST products at a global scale: Sea Surface Temperature (SST) plays an important role in the production of satellite based Sea Surface Salinity (SSS) observations. Cristina will explain novel approaches for assessing different sources of satellite-derived SST products, formatted according to the GHRSST standards.
Eventbrite: https://www.eventbrite.dk/e/evaluation-and-intercomparison-of-ghrsst-products-at-a-global-scale-tickets-479904867377
24 February 2022
Erik Kusch, Center for Biodiversity Dynamics in a Changing World (BIOCHANGE) (homepage)
Climate Data Pipelines - Efficient Data Retrieval and Processing
10 February 2022
Dim Coumou, Vrije Universiteit Amsterdam, Institute for Environmental Studies
Is global warming making summer circulation more persistent?
Zenodo: https://zenodo.org/record/6564153#.YpCxScNBziw
25 November 2021
Tiziano Distefano, University of Pisa (Italy), working in the LOCOMOTION H2020 project
Exploring synergies and trade-offs of policy interventions under the pressure of rapid climate change
11 November 2021
Lingling Suo, Nansen Environmental and Remote Sensing Center
Arctic tropospheric warming: drivers and modulators
28 October 2021
Len Shaffrey, University of Reading
How will climate change affect North Atlantic storms?
14 October 2021
Magdalena Mittermeier, Ludwig-Maximilians-University
Studying Climate Change Effects on Extreme Weather Patterns using Neural Networks
30 September 2021
Ralf Ludwig, Ludwig-Maximilians-University
Impact and attribution of extreme events using large, hydro-meteorological model ensembles
16 September 2021
Rasmus Benestad, Norwegian Meteorological Institute
Norwegian approach to downscaling