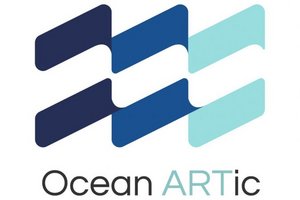 Blue-Action has been the science partner in an exciting new collaborative art-science project, kicking off in 2021 in the run up to COP26 in Glasgow in late 2021.
The aim of the project was to creatively explore how Arctic and marine climate data arising from projects such as Blue-Action can be used to inform and inspire creative practice. This partnership comprised of the Marine Alliance for Science and Technology and Creative Informatics (funded by Creative Scotland) alongside Blue-Action, with advisors from EcoArtScotland and Marine Scotland.
The project consisted of an initial workshop bringing together scientists and creative practice, which took place in April 2021. Following the workshop, we invited proposals from artists to undertake one of two virtual residencies, exploring with scientists the narratives and data around Arctic climate change. After the residency, the successful artists were invited to submit a proposal for an artistic commission that will be shared towards the end of the Blue-Action project and beyond.
We are delighted to announce that following an intense selection process, our two invited artists are composer Michael Begg, and environmental artist Eve Mosher.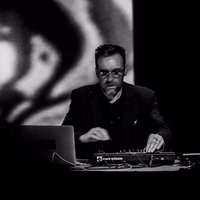 Michael Begg is an award winning composer, sound artist and musician based in East Lothian, Scotland.
Michael's music is located in the place where formal composition and electronic erosion meet; a liminal space coloured by longing and discomfort.
Michael is exploring how to transform Arctic climate data into evocative sound pieces, exploring the space between art and science.
Michael Begg's work with Blue-Action can be seen (and listened to!) here: https://michaelbegg.studio/artic/
Commissioned works: Light Water is Black Water
The live performance of Michael Begg's "Light water is black water" by the Black Glass Ensemble that took place on 5 November 2021 can be watched on Vimeo: https://vimeo.com/650095645?embedded=true&source=vimeo_logo&owner=107605445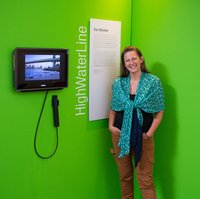 Eve Mosher is a cultural change entrepreneur working at the frontlines of climate change and the urban environment. She creates space for and putting forth possible futures. Her work explores individual agency in transforming the systems that have led to this moment. She is uplifting what is possible through creative engagement, multi-sensory collaboration and radical imagination.
Eve is working with scientists, communities and organisations to weave together stories around climate change into an interactive piece that will engage with ocean sciences.
Commissioned Work: Holding the Ocean https://www.evemosher.com/holding-the-ocean
Holding the Ocean is exploring our connection on land with what is happening, is being observed and modelled on the ocean. This project is a first personalised story exploration build on a chatbot model in collaboration with the team inChat, Hector Michael Fried and Rory Gianni. The second iteration of the project is to take it to villages and towns in Scotland in connection with an immersive audio visual experience.
Talk to Ossian the Octopus here and start your journey of explorations: https://www.holdingtheocean.org/
---
Understanding Climate Complexity
Blue-Action partnered with Creative Carbon Scotland to run a workshop bringing together artists and scientists to explore the role of creative practice in communicating climate science.
The aim of the event was to bring together climate research scientists with arts practitioners, to discuss and explore the role of the arts for developing understanding of complex science for the public.
To find out more about the event, please check out the presentations here, or read the summary report here or access the recording via Vimeo here